We've set up a survey for our members to fill out. We want to hear your thoughts on how we can shape our program for 2022. Please fill out the survey if you can, the responses will be really valuable for the committee, and for how we frame our events next year. Link is here.
EVENTS PROGRAM FOR 2021
We have created an events program for 2021, and hope to see you all there! The PDF of the program can be accessed here.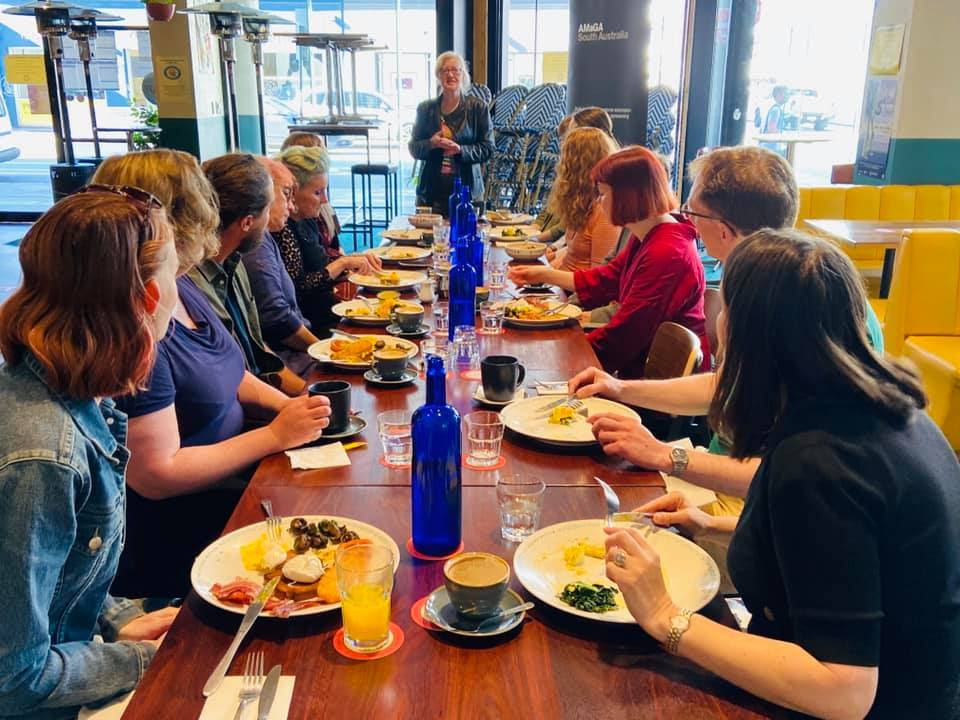 AMAGA GLAM BREAKFAST
Friday 3 September 2021, 8am-9am
The Golden Wattle
110 Pirie Street
Adelaide, SA 5000
Registration free, food price varies
Join us once again at The Golden Wattle for a chance to network and catch-up with colleagues over coffee and breakfast. ur September guest speaker is Allison Russell, Director, Assets & Operations, National Trust SA.  

This event is open to everyone interested in galleries, libraries, archives and museums (GLAM), so grab a friend and book yourselves a spot. We welcome first-timers and this event is ideal for anyone wanting to find out more about the cultural sector.
Bookings free, just pay for your breakfast on the day.
Menu at the Golden Wattle
Pre-order for breakfasts are required by selecting the relevant option when booking via Eventbrite. Payment will be taken on arrival at the Golden Wattle:
Full Wattle Breakfast - Eggs (Poached/Scrambled/Fried), Tomato, Mushroom, Hashbrown, Bacon, Sourdough (GFO), $20
Eggs Florentine - Smoked Salmon, Poached Eggs, Spinach, Hollandaise, Sourdough (GFO), $20
Vego Breakfast Bowl - Avocado, Greens, Soy Beans, Carrot, Tomato w/ optional poached egg (GF/Vegan), $20
Prosecco Fruit Salad – w/ Yoghurt, KI Honey, Pepitas, Sunflower Seeds (GF), $20
Fresh croissant from our friends at Lost Loaf with butter and house made preserves, $15
Toast w/preserves, $10
If you have any food allergies, please be sure to let us know as Golden Wattle will happily accommodate you. We will close bookings for this event at midday on Wednesday 1 September prior to the breakfast to provide the Golden Wattle with advanced notice of the food orders. Please note cancellations are also due by midday on Wednesday 1 September, and if you have a late cancellation you may be charged for your food order.
Please book here.
Follow us on Facebook for regular event updates and news.
SA MUSEUM ABORIGINAL CULTURES COLLECTION STORAGE FACILITY TOUR & WORKSHOP
Thursday 23 September 2021, 2pm-5pm
SAM Humanities Collection Store
300 Richmond Road
Netley, SA 5037 
$11.64 (Members event only)
Join Alice Beale, Senior Collection Manager, Humanities and World Cultures, and Kerry Nancarrow, Collections Manager, for a behind-the-scenes tour of the Australian Aboriginal Cultures Collection at the South Australian Museum's Netley storage facility. In 2021 the storage facility was renovated and fitted with purpose-built storage furniture and custom housing for SAM's Australian Aboriginal Cultural Collection.
This tour will give insights into the processes and project management of this store upgrade project. After the tour there will be the opportunity to take part in a location barcoding workshop with SAM Humanities collection managers.
This event is for AMaGA members only. Details about access and parking will be emailed to attendees.
Please book here.
_______________
Gabrielle Sexton - Secretary
On behalf of the AMaGA (SA Branch) Committee